Altrincham Martial Arts Club Grading week
Sat, Oct 22 2011 09:08
| kung fu, kids, martial arts, gradings, black belt, Wing Tsun Kung fu, EWTO, martial arts Altrincham, kids martial arts, sash
| Permalink
This week marks an important milestone in the history of martial arts in Altrincham and Greater Manchester. From Thursday 27th October through to Monday 31st we will be grading our first intake of kids classes as well as our adult students.
While all our students have been working hard for weeks it is especially exciting to announce that while we test these grades we will be joined by SiHing Barry Wells of
Leeds
our regional instructor for Wing Tsun Kung fu here in the North of England.
The
EWTO
have been absent from the North West for too long now but thanks to our hard work, passion for Wing Tsun and determination to quality I am pleased to bring back the martial art to the North West in an official capacity.
While others may use the name illegally, claim murky lineages and pass off poor imitations of our art it is pleasing to know not only do we deliver the 'real deal' but we do it with no cheap tricks, no hidden costs and no sleight of hand.
The proof is in the pudding and when we see the joy and reward of kids from the age of 5 to people with many years on me claiming the next bench mark in their training it is great to know that earned it. From Hong Kong to Altrincham the art of Wing Tsun is seemingly little known outside of martial arts circles - but that is because while others might be more recognisable Wing Tsun works!
Effective for self defence, mentally challenging and difficult to perfect it's a long road many are not willing to take, although everyone is able to. With the mental toughness, physical endurance and dedication anyone can benefit from Wing Tsun. While other arts may be easier, more accessible or just popular there is a sense of achievement that comes with every certificate earned in Wing Tsun.
This week we'll be sharing that feeling of pride with dozens of people and that makes me not only very proud but excited and determined to go even further next time too!
Grades for kids always see them rewarded with coloured sashes
The IWTA logo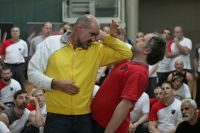 GM Kernspecht working his magic at a seminar, typical of the adaptability of Wing Tsun
See Older Posts...